When I was a kid, summer meant being flopped in the grass with a book. Truth be told you might still find me there. And I may be reading one of these favorites, old and new.
For the youngest readers, So Many Stars is a delightful board book out in a new expanded edition (big at 24 pages) created with artwork by one of our brightest stars, Andy Warhol. Many images from his "So" Series are included here, as in "So Sunny" and "I Love You So". I can't think of a better introduction to Warhol than this sweet and playful book. Ages 1-4.
Yes, it's a bestseller and deservedly so! The Day the Crayons Quit (by Drew Daywalt, illustrated by Oliver Jeffers) is laugh out loud funny.  The concept is brilliant: anthropomorphized crayons revolt. And you thought all was calm in that pack of Crayolas! Parent alert: you will NOT get tired of re-reading this one (because you will be reading it over and again.)  Ages 4-7.
Sometimes it isn't about reading and looking, it's about making.  A treasured favorite, Nina's Book of Little Things!, is out in a fresh new edition. Keith Haring created this book for a 7 year old friend and what a gift it is, full of love and inspiration. Of all the cre-activity (I think I just coined that word) books published, this is still one of the very best. Thank you, Nina, for sharing your book! Ages 6+.
Secret Garden: An Inky Treasure Hunt and Coloring Book (by Johanna Basford) provides hours and hours of coloring in beautifully intricate nature designs. I mean the kind that obsessively draw you in (no pun intended). Bonus: it is layered with hidden images, mazes, and spaces to draw. Excuse me – got to get back to my colored pencils  . . .  Ages 7+.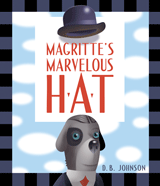 The popular surrealist painter's "real" muse is revealed in this absorbing picture book tale. Magritte's Marvelous Hat by D. B. Johnson is a visual treat that will keep you looking and looking again (and even again) at the inspired illustrations. Use this as a great introduction to the Magritte paintings that are referenced in the  book.  Kind of surreal in itself! Ages 4+.
Find out how the iconic inventor of the mobile got his start in Sandy's Circus: A Story About Alexander Calder (by Tanya Lee Stone, illustrated by Boris Kulikov), and about finding and following your own path. And maybe a little bit about childlike wonder and imagination.  If you've never seen Sandy (Alexander) Calder perform his circus, you can watch a video here. Ages 6+.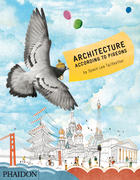 Architecture According to Pigeons (by Speck Lee Tailfeather, illustrated by Natska Seki) gives a nice introduction to great constructions of the world, from the Gothic cathedral to the Walt Disney Concert Hall. Yes, it is told from a pigeon's eye view with that unique high-flying perspective.  This is for the child who likes to pour over pictures and browse. Chock full of good information, it will pique interest not only in architecture, its history and styles, but the world as portrayed through engaging collages. Ages 8+.
Optical illusions are a topic of endless fascination for many kids. My Big Book of Art and Illusion by Silke Vry gives examples of all variety of visual tricks using art from the classic to contemporary, heavy on the contemporary. What AMAZING (and fun) effects! Each example is explained and each spread includes a related activity.  Ages 8+.
Happy reading!
We carry all of these books in the BMA Pop-Up Shop. You can also order them online at shopartbma.org, via the links above.